Wallich Residence
3 Wallich St, Singapore
Last updated on 2021 April 18 05:04
| | |
| --- | --- |
| TOP | 31 December 2019 |
| Tenure | 99 |
| Total Units | 181 |
| Site Area | 161,708 sqft |
| Property Type | Apartment / Condo |
| Developer | Belmeth Pte Ltd, Guston Pte Ltd and Perfect Eagle Pte Ltd under Guocoland |
| Development | Unit Mix: 1-Bedroom, 2-Bedroom, 2-Bedroom plus Study, 3-Bedroom, 4-Bedroom,4-Bedroom plus Study, Junior Penthouse, Super Penthouse |
| Website | wallich-residence.developer-launches.com |
Singapore's tallest residential development, Wallich Residence, is an exclusive collection of 181 luxury homes consisting of one to four bedroom units, four penthouses, and one Super Penthouse. With unparalleled views starting from 180 metres above sea level, each home is impeccably finished with top-of-the-line materials and fittings, a reflection of the distinctive aesthetics that Wallich Residence offers.
Offering 4 levels of upscale facilities and luxurious hotel-inspired concierge services, Wallich Residence is a tower that stands apart. Not just by its sheer height, but also by the quality of the life one experiences here with the magnificent city skyline as a backdrop. Residents can relax amidst the lush greenery of the sky gardens, recharge by the cabanas and infinity pool with breathtaking views, enjoy an intimate dining experience with a private chef or host private screening events for family and friends at the theatrette.
Wallich Residence is located on the 39th to 64th floors of Guoco Tower, an ambitious vertical city that will be the focal point of the Tanjong Pagar precinct. An integrated development, it houses Grade-A offices, a 5-star business hotel, an extensive variety of retail and F&B options, and a lush 150,000 square feet urban park. Integrated with the park is a 32,000 square feet city room that is designed to be a gathering space for community events and other social activities.
Tap into Its Immeasurable Value Now and in the Future
With the area's current rejuvenation from Tanjong Pagar Centre and the Great Southern Waterfront development in the works, Wallich Residence is, and will continue to ride on this tidal wave of positive change. Those who buy into it will be able to enjoy the long and short-term economic benefits the transforming Tanjong Pagar district can bring, as well as, tap into its immense potential with a first-mover advantage.
Set in the heart of a thriving district undergoing exponential growth within both the short and long-term, endowed with accessible amenities that inspire a more convenient, yet exclusive lifestyle, Wallich Residence redefines luxury living for just about anyone.
A Few Distinguishing Factors of This New Condominium
The Tallest Building in Singapore
Tanjong Pagar Centre, crowned by Wallich Residence, has taken up the highly-coveted title of tallest building in Singapore. Towering over many other prime landmarks in the CBD, it stands at 290m. This building is the only one in the CBD that does not stand in the way of designated flight paths to Paya Lebar Airbase, hence not facing any height restriction rules imposed by the government. Before Tanjong Pagar Centre's construction displaced them, One Raffles Place, UOB Plaza One and Republic Plaza had jointly held the title for 20 years, at heights of around 280m. Situated right at the peak of the 64-storey development, Wallich Residence will no doubt offer unrivalled views like no other residential building can.
Named after the Visionary behind our Garden City
Wallich Residence, located on Wallich Street, was named after Dr. Nathaniel Wallich, a famed surgeon from Denmark. In his time in Singapore, his immense interest in botany, the study of plants, has paved the way for our country's transformation into a Garden City. Spending most of his life discovering and recording plant species all over Asia, he followed Sir Stamford Raffles to Singapore to introduce tropical plant specimens to inject flora and fauna to the booming trading port. His legacy is present our local UNESCO World Heritage Site, Singapore Botanical Gardens, a precursor to an experimental garden he designed during his time in Singapore.
Even today, his influence will indefinitely be felt in Wallich Residence, where lush natural greenery plays a huge role in fostering a refreshing, luxurious ambience, the perfect space for some respite.
A Living Space Like No Other
Spanning across the top three levels of Tanjong Pagar Centre, the Super Penthouse is the crown jewel of the ambitious mixed development. This spacious triplex is well-furnished with the personalized amenities that make your time at home luxurious and fun. The bedrooms in the house come equipped with their own bathrooms or walk-in closets. To escape the stresses of daily life, one can retire to the private garden or viewing deck to soak in the cool evening breeze and panoramic views. The highlight of this palatial living space has to be the rooftop terrace, 12-metre pool and Jacuzzi room- the ideal spot to host social activities or just spend quality time with your loved ones. The Super Penthouse is truly an embodiment of comfort and quality. It has the makings of everyone's dream home.
About Developer's Background

GuocoLand Limited ("GuocoLand") is a public company listed on the Singapore Exchange since I978. The principal business activities of its subsidiaries are property development, property investment, hotel operations and property management. GuocoLand and its subsidiaries ("Group") have established property operations in their geographical markets of Singapore, China, Malaysia and Vietnam, comprising residential, hospitality, commercial and retail developments. As a premier regional property company, GuocoLand is focused on achieving scalability, sustainability and growth in its core markets through its property development, investment and management businesses.
The parent company of GuocoLand is Guoco Group Limited, a company listed on the Main Board of The Stock Exchange of Hong Kong Limited. Guoco Group Limited is a member of the Hong Leong group of companies.
In Singapore, the Group has successfully developed and sold 33 residential projects yielding more than 9,000 apartments and homes over the last 25 years.
GuocoLand Limited, a public company listed on the Singapore Exchange, is an award-winning developer whose developments are distinguished by quality, innovative designs and concepts.
GOODWOOD RESIDENCE
Top selling luxury development in 2015
Awards
FIABCI Singapore Property Awards 2015
World Architecture News Asia Awards 2015
BEI Asia Green Building Awards 2014
SG Landscape Architecture Awards 2013, Outstanding Award for Excellence
LEEDON RESIDENCE
Top selling luxury development in 2016
Awards
South East Asia Property Awards 2015
Best Condo Development (SEA)
Best Residential Architecture (SEA)
Best Luxury Condo Development (SG)
Best Residential Interior Design (SG)
WALLICH RESIDENCE @ TPC
Singapore Tallest Landmark
Awards
Winner of 2014, World Architecture News
Mixed-Used Future Projects Category
Asia-Pacific Property Award, Best Mixed-Use Development Category
LEED Platinum Precertification
Wallich Residences Prices at a Glance
All units of Wallich Residence are priced above $3,000 per square foot (PSF). For your easy reference, the price ranges for each of the unit types have been collated below. The data is based on the units that have already been transacted and hence two particular unit types (2 Bedroom + Study (4 units), 4 Bedroom + Study (8 units)) have to be excluded.
For the price information of actual units that are still available, please contact us at: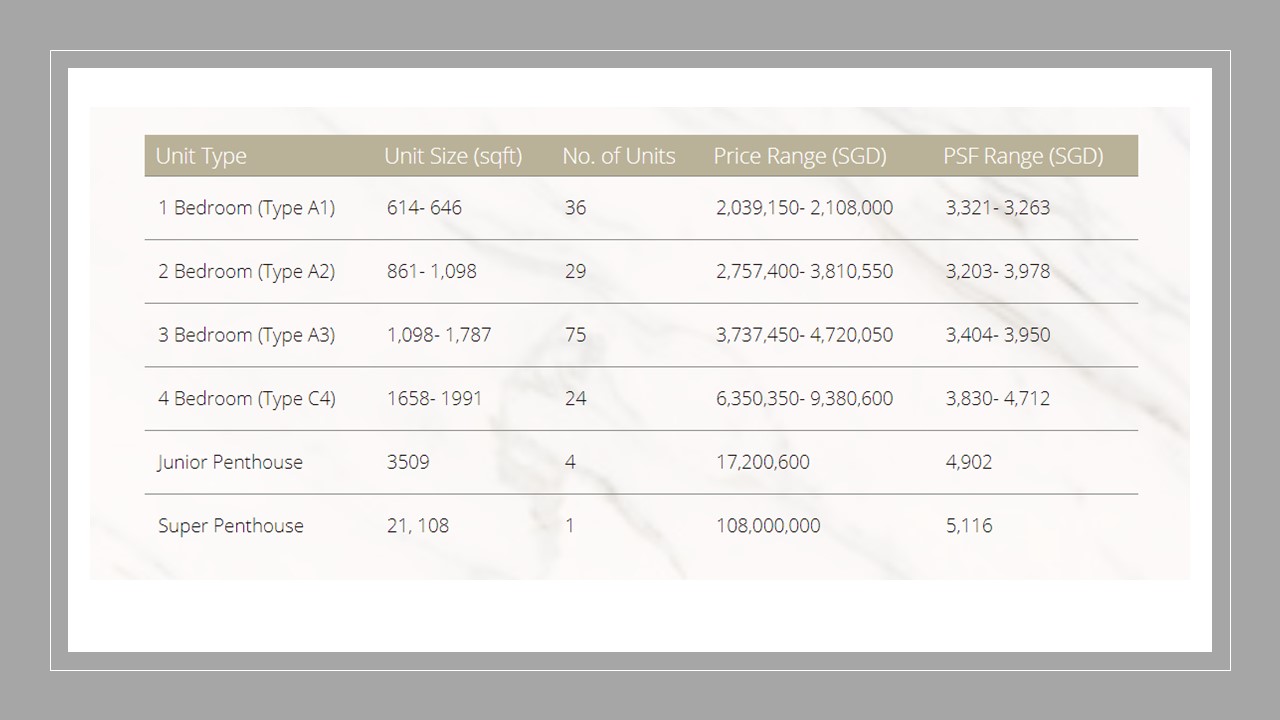 Top Financial Hub and Livable City
Branding itself a prime investment destination for those looking into the Asian Pacific market, Singapore lives up to its name as the global financial hub of the region. Aside from that, this bustling metropolis is deemed a comfortable and safe home for Singaporeans. Those residing in this vibrant city will enjoy its high quality of life, optimum business environment and unique culture.
Within this highly-developed nation, Wallich Residence is, in fact, located in a thriving and rapidly-growing district, Tanjong Pagar.
In the Heart of the CBD
Located within the Central Business District, Wallich Residence stands among the hustle and bustle of countless business activities. It also houses an eclectic mix of cultural relics like shop-houses and temples, injecting a hint of nostalgia to the otherwise-contemporary setting. All in all, the CBD is a well-consolidated avenue for financial and leisure activities. Some government land redevelopment plans that are underway, serve to extend the existing CBD to form a waterfront city. Tanjong Pagar, and hence, Wallich Residence will be in the heart of all that exciting transformation.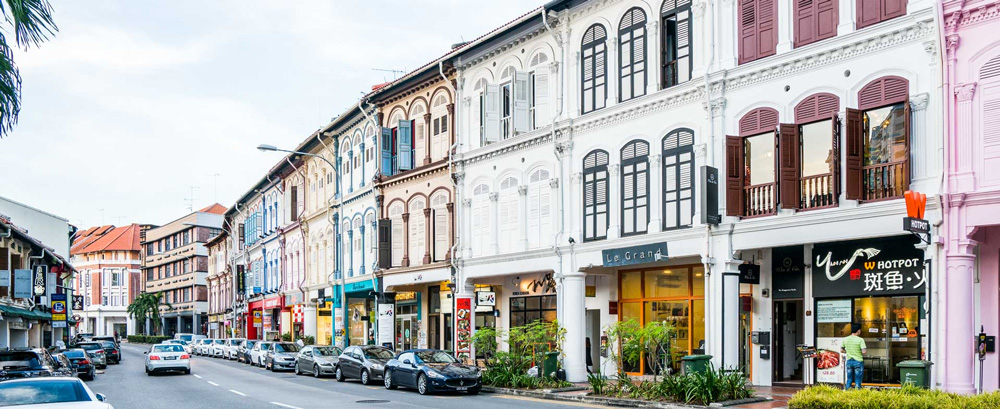 Situated in a Well-connected District
Residents at Wallich Residence will have direct access to Tanjong Pagar MRT station at their doorsteps. Linked to both the North-South and East-West MRT lines, the underground station is located at Tanjong Pagar Centre, right below the residential building. It is also situated in close proximity to popular districts such as Orchard Road (an 8 minute drive away), Marina Bay (a 4 minute drive away) and Changi International Airport (a 16 minute drive away). Other parts of this small city can be easily-reached via the Ayer Rajah and Marina Coastal Expressways, main highways which are connected to the Tanjong Pagar area.