Midtown Modern
Tan Quee Lan St, Singapore 188098
Last updated on 2021 March 27 06:03
| | |
| --- | --- |
| TOP | 31 March 2024 |
| Tenure | 99 |
| Total Units | 558 |
| Site Area | 11,530.8 sqm / 124,116.4 sqft |
| Property Type | Apartment / Condo |
| Developer | Guoco Midtown II Pte Ltd & Midtown Modern Pte Ltd |
| Development | Residential with 1st storey commercial |
| Website | midtown-modern.developer-launches.com |
Midtown Modern is a new development located at Tan Quee Lan Street right next to Bugis MRT Station. The development is located at Bugis District 07 and part of the core city centre region. The area is buzzling with activities and Tan Quee Lan Street presents the unique opportunity of a quiet corner of Bugis where residents of Midtown Modern can get after a hard day's work. It is the perfect place to stay with your family with all the amenities nearby as well as the facilities offered in the development. Everything is at your door step so there is no need to travel far.
Featuring approximately 558 residential units across a site area of 124,071 square feet, the Midtown Modern condo is just a short walk to the lively Bugis Town, as well as being a 1-minute walk to the Bugis MRT Station.
Being in a core city development also means that Midtown Modern is located near to schools as well. Midtown Modern is located near to Stamford Primary Schools as well as Singapore Management University making it a perfect place for family who are looking for good schools around the Bugis area. Located in a traditional area where good schools are aplenty, many signature food choices as well as gourmet dining restaurants are located in the heart of Bugis and one is no short of dining options available for the residents of Midtown Modern. Getting around to these food options are very easily as it is just a short bus drive or a few minutes drive away.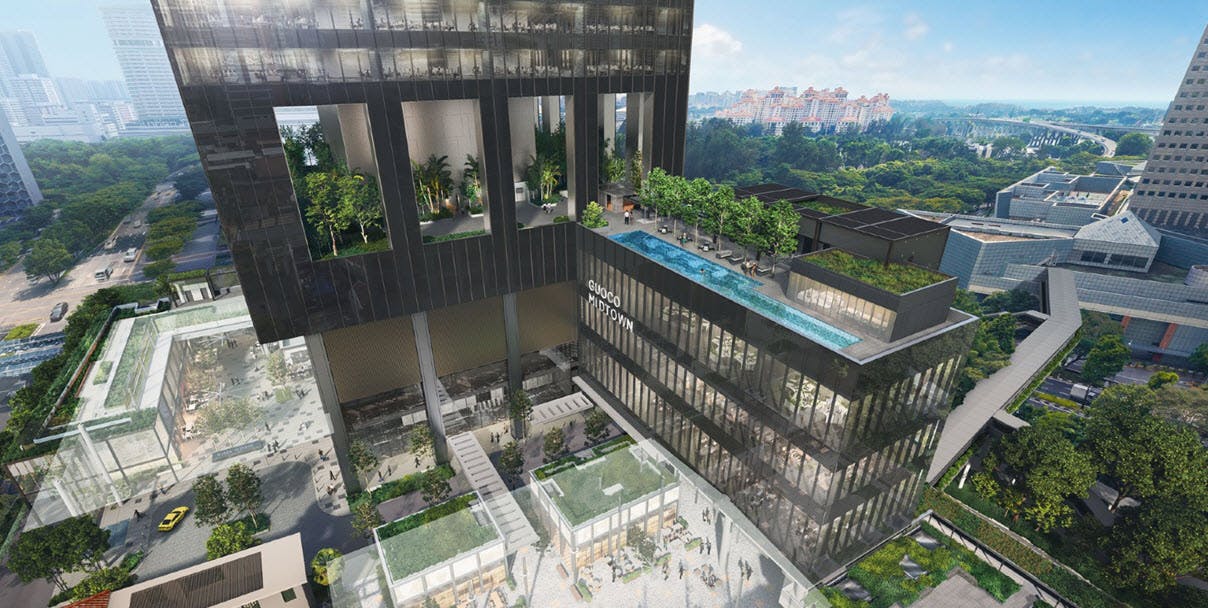 ✅Direct to Bugis Interchange MRT
• Direct to East-West and Downtown Line
• World Class Amenities in 5-10 minutes walk
✅Own a piece of Guoco Midtown
• GuocoLand's Flagship Long-term Investment
• Ride on the transformation into Singapore's New Midtown
✅Garden Homes in the CBD
• More than 1 Ha of exclusive gardens with almost 200 species of plants
• Full condo facilities, concierge and networking amenities
About Developer's Background
Midtown Modern will be developed by a JV of renowned Asian development firms, all working together to deliver the world class quality that they are known for.
Guocoland
Since being listed in Singapore in 1978, GuocoLand Limited has quickly risen to become one of the leaders in property development across Asia.
With top class operations throughout Singapore, China, Vietnam and Malaysia, the group has delivered the highest standard of property development, management, sales, investing, hotel operations and more for over 40 years.
With its headquarters located in Singapore, the group is looking forward to completing yet another impeccable residential development project with The Avenir. With 35 residential projects to its name in Singapore alone, GuocoLand has seen over 10,000 apartments and homes be sold to satisfied customers that love their blend of practical and luxurious design.
Some of GuocoLand's flagship projects include the Guoco Tower, the high-class Wallich Residence luxury apartments, Leedon Residence, Sims Urban Oasis and much, much more.
Intrepid Investments & Hong Realty
Wholly-owned subsidiary of Hong Leong Holdings Limited, Intrepid Investments and Hong Realty represent one of Singapore's largest development conglomerates.
With a diversified portfolio that includes numerous properties from the Central Core Region and the Outside Core Central Region, Hong Leong Holdings has developed over 100 residential properties since its inception in 1968. With a reach expanding throughout Asia and into Europe and North America, the company has grown to be valued at over $40 billion.
Their previous successful residential buildings include the renowned One Balmoral, Commonwealth Towers, Meyerise and more. One major element of Hong Leong Holdings' success is that they go far beyond simply developing residential projects.
Luxury Living in an Excellent Location
The Midtown Modern development is a rare opportunity to enjoy peaceful living in the incredible District 7, within the renowned Bugis region of Singapore.
With a number of high-profile luxury residences going up in the area recently, including the Duo and South Beach Towers, the area is rapidly seeing a positive transformation for everything from tourism to business.
The Midtown Modern finds itself close enough that residents will be able to be just steps away from the rich cultural heritage, amazing dining options, beautiful boutique shops and engaging entertainment, while still being a tranquil atmosphere for families.
Perfect for those working in Singapore's Central Business District, the Midtown Modern condo development includes enhanced connectivity to work, yet allowing residents to stay out of the overly busy city life.
The Midtown Modern Development is Connected
One of the biggest selling points for the Midtown Modern condo is the amazing access offered to Singapore's public transit and major parkways.
The Midtown Modern will be located right next to the Bugis MRT Station and a number of bus routes that run along Beach Road and Rochor Road, making traveling by public transit seamless for residents.
The Midtown Modern also provides direct access to the Nicoll Highway and connects easily to the East Coast Parkway, Central Expressway, Ayer Rajah Expressway and more. This means that the Central Business District can be reached by car in under ten minutes, saving precious commuting time.
Shopping Near the Midtown Modern in Singapore
As the Bugis area is recognized for its fantastic selection of entertainment, dining and retail choices, residents will not need to go far in order to take in the best that Singapore has to offer.
Living in the midst of such a dynamic region ensures that there is everything from world class shopping centres to boutique-lined avenues to enjoy. With so many options right outside their doors, Midtown Modern residents will always have something to do the moment they step outside.
Shopping lovers will rejoice in the fact that Orchard Road and Raffles Place are each just ten-minutes away from The Midtown Modern development.
The Shopping Centres Near The Midtown Modern Are:
Bugis Junction
Bugis+
Bugis Street Market
Sim Lim Square
Raffles City
Orchard Road
Peninsula Shopping Centre
Various hawker-style street foods and traditional food markets such as the Tekka Market, Golden Mile Food Center, Albert Center, Hong Lim Market and more provide a diverse range of food, as well.
From local favourites to exciting new culinary delights, Bugis is the place to be in Singapore for foodies!
The Midtown Modern are Great for Families
The Midtown Modern condo development finds itself in close proximity to some of the premier educational institutions in Singapore. From primary to university, parents have a remarkable choice to schooling options, including several expat and international schools.
Schools Near the Midtown Modern Condos Are:
● Farrer Park Primary School
● Stamford Primary School
● St. Margaret's Primary School
● Anglo-Chinese Junior School
● JCS Japanese Language School
● School of the Arts, Singapore
● Greentree School of Education
● Queensfield International Business School
Location Map
For families with small children, there are also a number of local daycares within the Bugis area. This means parents have convenient childcare options, saving them time and effort when dropping-off and picking-up their children.
The Midtown Modern Are Ideal to Enjoy Culture
The Midtown Modern condo development finds itself close to some of Singapore's top museums, making it the perfect location for anybody that wants to enjoy the rich culture that the country has to offer.
The National Museum of Singapore is the most notable museum and is just a 5-minute drive away from the Midtown Modern site. With endless exhibits and special activities for children on the final Saturday of each month, it is both educational and entertaining.
SAM, the Singapore Art Museum, is also located in the Bugis neighbourhood. With an ideal mix of traditional and innovative art, it houses Singapore's art talent in an incredibly vibrant space.
The Bras Basah Complex, also known as the Book City of Singapore, is a centre dedicated to reading and design. Residents of the Midtown Modern can head over to some of the best bookstores in Singapore, while children can also enjoy the 5th-storey indoor playground.
There are Many Green Spaces Near the Midtown Modern
While it is in the heart of a vibrant city area, residents of the Midtown Modern condos won't need to go far to enjoy tranquil nature and a place to lead an active lifestyle.
The Kallang Riverside Park is quite close and features a cycling track, free outdoor fitness equipment and walking areas, so those living in the Midtown Modern can exercise while taking in some scenic views.
District 7 also includes plenty more open green spaces, including the War Memorial Park, Esplanade Park and Fort Canning Park. Each park has its own personality and unique offerings, perfect for an after-work walk or a weekend adventure with the family.